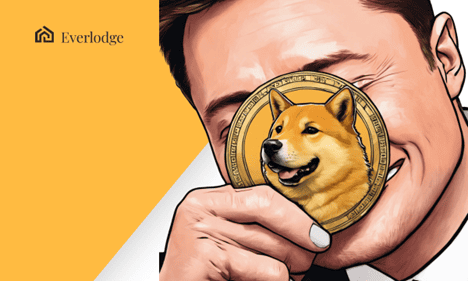 Recently, Dogecoin (DOGE) delivered a surprise on November 2nd, which the community affectionately calls "Doge Day."
The project revealed a bronze statue of the Kabosu dog in Japan, the animal that inspired the memecoin. Alongside this development, Ethereum (ETH) and Everlodge (ELDG) have maintained their bullish momentum, creating an intriguing landscape for cryptocurrency enthusiasts and investors.
Dogecoin (DOGE): Doge Day Celebration
Something happened with Dogecoin (DOGE) on Doge Day. The beloved day for DOGE enthusiasts brought a huge increase to its value. This year's Doge Day was significant as Kabosu, the original Dogecoin dog, marked her 18th birthday.
The Dogecoin Foundation commemorated this remarkable milestone with a heartfelt X post. Not only that, the Kabosu fans raised funds to create a bronze statue of this dog in Sakura City, Japan. Following this event, the Dogecoin price increased from $0.068 on November 2nd to $0.074 on November 6th.
As it maintains its prominence in the crypto market, experts have also made a bullish Dogecoin prediction. They foresee a Dogecoin price increase to $0.098 within Q4 of 2023, highlighting the enduring charm of this meme cryptocurrency.
Ethereum (ETH): Fees On The Rise
Ethereum (ETH) has been experiencing a bullish momentum, with a significant increase in transaction fees. According to recent data, over the week starting October 30th, total Ethereum transaction fees surged by 30%.
This uptick in transaction fees can be attributed to the increased trading volumes of many smaller cap tokens on the Ethereum blockchain, indicating a rise in on-chain activities. Meanwhile, Ethereum has remained a stable platform for decentralized apps and finance, along with NFTs.
With this stability, the Ethereum price saw a leap from $1,818 on October 30th to $1,904 on November 6th. Some analysts predict that by December 2023, the price will increase above $2,000.
Everlodge (ELDG): Outgrowing Dogecoin and Ethereum?
Everlodge (ELDG) has the prospect of rapid growth that could rival established players like Ethereum and Dogecoin. This rising presale phenomenon aims to tap into a massive and established market valued at over $4.5T in 2022 – the global hospitality industry. It will enter this market with a bang by creating a unique property marketplace, solving all investor headaches.
For instance, a significant problem in this field is the high capital required to invest. However, Everlodge will be a game-changer by digitizing and minting luxurious villas, hotels, and more into NFTs. Afterward, these NFTs are fractionalized. Thus, anyone may purchase them and become a fractional owner – regardless of income level.
Additionally, traditional real estate investments suffer from a lack of liquidity, meaning that properties can take months or even years to sell. Everlodge changes this dynamic by allowing the trade of property-backed NFTs on secondary markets. This gives investors a level of liquidity previously unheard of in the real estate market.
One key factor contributing to the growth potential of Everlodge is its relatively low market cap compared to Dogecoin and Ethereum. It is now in Stage 6 of its presale, and one ELDG native token costs just $0.023. But, as it requires less new funds for it to experience growth, some experts are bullish it can increase even more before its presale ends.
For more information about the ongoing Everlodge (ELDG) Presale, you can visit their website or join their community here.
Disclaimer: The above article is sponsored content; it's written by a third party. CryptoPotato doesn't endorse or assume responsibility for the content, advertising, products, quality, accuracy, or other materials on this page. Nothing in it should be construed as financial advice. Readers are strongly advised to verify the information independently and carefully before engaging with any company or project mentioned and do their own research. Investing in cryptocurrencies carries a risk of capital loss, and readers are also advised to consult a professional before making any decisions that may or may not be based on the above-sponsored content.
Readers are also advised to read CryptoPotato's full disclaimer.
SPECIAL OFFER (Sponsored)
Binance Free $100 (Exclusive): Use this link to register and receive $100 free and 10% off fees on Binance Futures first month
(
terms
).